Market Dominance Guys
Buying Cycle
Episodes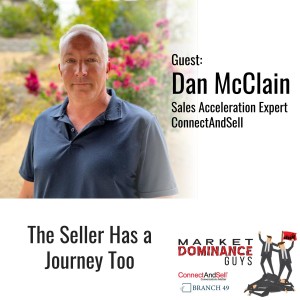 Tuesday May 17, 2022
Tuesday May 17, 2022
You're no doubt familiar with the buyer's journey, but what do you know about the seller's journey? Dan McClain, Sales Director at ConnectAndSell and today's guest on Market Dominance Guys, shares his personal journey as a salesperson with our host Chris Beall in this first of a two-part conversation. Starting at the beginning of his career, Dan tells the story of how he got into sales straight out of college, what his early selling experiences were like, and how he cold-called his way to where he is today. Most memorable for him was his first experience using ConnectAndSell Lightning, the cold-calling tool that boosts the number of conversations a salesperson can have with prospects. Pushing that "Go" button and being served one conversation after another changed his life and led to his current job selling Lightning at ConnectAndSell. Helping other salespeople discover this tool is now Dan's mission. Listen in as Dan and Chris remember the details of their first meeting in today's Market Dominance Guys' episode, "The Seller Has a Journey Too." About Our Guest Dan McClain is Sales Director at ConnectAndSell. His life-long dedication to sales has led him to his current goal: helping sales leaders, teams, and individuals connect with their targets at a velocity of 10X by using ConnectAndSell Lightning. Dan is based in the San Diego area and is active in his local chapter of AA-ISP.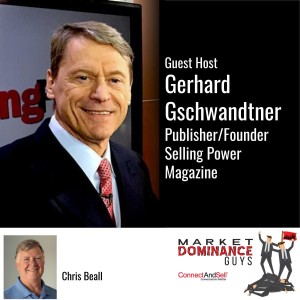 Tuesday Jan 11, 2022
Tuesday Jan 11, 2022
When your prospect's response to your cold call is "Not now," do you assume they mean they're too busy to talk at that moment? Or perhaps this is just their way of getting rid of you altogether. Our Market Dominance Guy, Chris Beall, talks with Gerhard Gschwandtner, CEO and founder of Selling Power, in this podcast about a more probable reason you're hearing "Not now." It has to do with the replacement cycle and consideration cycle of businesses. In other words, where they are in the three-year buying cycle most businesses utilize for timing when they begin considering a new product or service — or replacing an existing one. Once you determine if "Not now" really means "We're not ready to purchase at this time," what you do next is critical! Listen in as Chris and Gerhard divulge the intelligent way to deal with the 11/12ths of the market who aren't ready to buy at this time. Take my word for it: You won't want to miss the market-dominating advice you'll hear on this Market Dominance Guys' episode, "Who's Ready to Buy Right Now?" About Our Guest HostGerhard Gschwandtner is founder and CEO of Selling Power magazine, as well as CEO of the Sales 3.0 Conference series. Gerhard's career has always been centered around helping sales leaders create peak performance in business and in life through video interviews, online events, and live workshops and retreats.