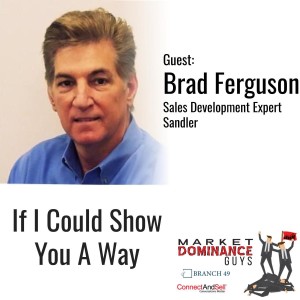 Wednesday Jul 27, 2022
EP141: If I Could Show You a Way
In this continued "honeymoon" edition of the Market Dominance Guys, ​our host, ​Corey​ Frank,​ sits down with Brad Ferguson of Sandler​ Training, one of the most highly rated sales trainers on the planet. Brad, being a top franchisee of Sandler for years, personally learned his incredible questioning techniques and prospect approaches from the founder of Sandler himself, David Sandler, more than 30 years ago.
On several of the Market Dominance Guys​'​ podcasts over the years, Chris​ Beall​ and Corey have discussed many of the modern and fresh sales methodologies being used by successful sales professionals all over the world. From Oren Klaff's "Pitch Anything" to Andy Paul's "Sell Without Selling Out" to Chris Voss' "Never Split The Difference," there are many different flavors of sales methodologies that can be used to generate trust that result in more consistent sales success. 
If you're a pilot, you file a solid flight plan and know where you are going before you start the engines. You may change course due to bumpy weather, but you still know your final destination. If you are an architect, you know what type of building you are constructing. You have a blueprint. But if you are in ​s​ales today and you are still "winging it" and letting your personality alone dictate how your sales conversations progress, you fall into the trap of being labeled a "mere tourist" and continuing to wander inconsistently in this profession. As Uncle Zig once said, "Selling is the highest-paid hard work and the lowest-paid easy work there is." Using a sales methodology makes the hard work easier. 
In this episode, have your pen and pad ready as Brad shares several tactical and specific use cases where the Sandler methodology can be employed on your calls today. He discusses many traditional "mental hang-ups" and speed bumps that impede success from an emotional point of view. From being uncomfortable about money to having a high need for approval and an aversion to the word "no," Brad shares just some of the powerful Sandler techniques that have generated hundreds of millions of dollars in closed deals. This is the Market Dominance Guys' nearly indispensable podcast, and today's episode is entitled, "If I ​Could ​S​how ​You a ​W​ay."
About Our Guest
Brad Ferguson is the CEO of Best Sales Force, Inc., an Arizona-based sales development firm. He
is the Senior Sandler Training Franchisee with over 25 years of experience in the Sandler
Network.