Market Dominance Guys
Guest: Dan McClain
Episodes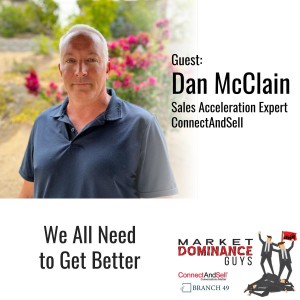 Tuesday May 24, 2022
Tuesday May 24, 2022
How often do salespeople need to be trained? Most people would say, "Once during onboarding should do it." "Not so," says Dan McClain, Sales Director at ConnectAndSell. As today's guest on Market Dominance Guys, Dan talks with our host, Chris Beall, about the importance of periodically sharpening sales reps' skills. In this second of their two-part conversation, these two sales guys, both amateur chefs, agree that knives work better when they've recently been sharpened — and sales reps work better when their selling skills have recently been sharpened. Dan reminds our podcast audience that, over time, all sales reps drift from their company's established message, their pace may become rushed, or their tone lackluster. For these very reasons, ConnectAndSell's own reps go through a periodic blitz-and-coach cold-calling session, an essential tool of ConnectAndSell's Flight School, because, as Dan says, "We all need to get better." And because this essential advice bears repeating, that's what we've named today's Market Dominance Guys' episode: "We All Need to Get Better." About Our GuestDan McClain is Sales Director at ConnectAndSell. His life-long dedication to sales has led him to his current goal: helping sales leaders, teams, and individuals connect with their targets at a velocity of 10X by using ConnectAndSell Lightning. Dan is based in the San Diego area and is active in his local chapter of AA-ISP. Full episode transcript below:   Dan McClain (01:30): It's really easy to go hire someone. It's really hard to go buy, ConnectAndSell. Even when you put a mathematical equation in front of them saying, "We could double the output of what you're doing and actually you'll spend less money." It's still hard. Chris Beall (01:45): Yeah. Dan McClain (01:45): It seems like a no brainer. It seems like this would be such an easy job. Chris Beall (01:50): Well, part of it also is this program is a little bit funny, because Cory Frank came to me and said he wanted to get a book out on the [inaudible 00:01:58] market dominance. Well, a book on market dominance is fundamentally only interesting to owners of different kinds. Whether an owner is an investor in a business or the owner is the owner or the owner is a CEO. CEOs are often pretty... I can tell you from experience pretty aligned with their company. There's a problem called the agency problem, right? You have somebody else doing something for you, but they've got to look out for themselves. And so the question is- Dan McClain (02:24): Why wouldn't you include a VP of sales in that grouping of people that would be interested in market domination? Chris Beall (02:29): Well, because here's the thing, a VP of sales, like our VP of sales, Jonti McLaren, highly aligned, right? He's a big cash investor in the company. And so it's easy. And he owns enough of the company that he's naturally aligned. And this is true in certain kinds of startups where they're still in startup mode, so to speak, where maybe the VP of sales is with the founder. Chris Beall (02:52): They're a founder of themselves and they got that ownership mentality. But I think we have a little bit of a vicious cycle going on where folks don't know quite how to drive organic growth. They're guessing, "Should we do ABM? Should we do this? Should we prospecting hard on social media? Is it a prospecting problem or a closing problem?" It's hard to tell, right? It's not obvious what you're going to do. And then how fast is it going to kick in? Chris Beall (03:18): Right. If I say I got a seven month sales cycle, eight month sales cycle. So I've got 17 months of average tenure. So wait a minute. If I'm past month four, I'm down to the point where I got to start to see results somebody else cares about three months before I'm likely to get kicked out of here because I didn't produce the numbers. There's kind of a short term attitude on the part of ownership often. Chris Beall (03:43): I'll call it ownership, regarding the sales function, where they treat sales as an externality. Like sales is something you graphed onto the company. And I've said it on this show, sales traditionally was used to dispose of inventory. The factories created, dispose of it as sufficient profit to keep the lights on and maybe give you a net profit that you can use in order to grow the business, right? That's how capitalism works. Chris Beall (04:06): You put capital in to buy plant and equipment. You make stuff, the widgets are being made. Well, the widgets must be sold. And what was the tradition? Put a rep in a territory, give them a quota, give them a fair amount of autonomy. There wasn't much management required. And then it's great, they get to keep the territory and maybe get a better territory. Chris Beall (04:32): If it doesn't work out, you put another rep in. And meanwhile you're telling more stories about how great you were back in the day, so you have something to do management wise. So I think that role doesn't make sense in the world of at least software. And the world is becoming software, because you don't have widgets anymore. How many units of ConnectAndSell software... And we even have people in the loop, get turned out yesterday that you and your team have got to dispose of at a profit. Chris Beall (05:02): None. There's no units, right? We didn't make a bunch of widgets that are piled up in a warehouse somewhere. So I think sales was treated as an externality because it worked as an externality. Now we're asking sales to do a strategic job, which is to take us into markets like your first job. And the question is, "Well, is the alignment right?" Is the long term relationship there going into markets doesn't happen overnight. So I think we have some issues around kind of how the sales function is conceived of. And then we say, "Hey, you do your job with head count. Marketing, do their job with money and imagination." And I don't think that's right anymore either. That's my feel anyway. I think sales is one who needs the money and the imagination. Dan McClain (05:51): Yeah. That's true. Interesting. Chris Beall (05:55): Yeah. I it's the stuff that we think about it a lot. Right? Because we're sort of on this spear tip of what we believe, which is the conversations first move the business. But I want to go to a success story that you and I experienced a little bit together and see what your thoughts are about it. There's an Israeli cybersecurity company selling the hospitals. And they have three SDRs and some people think SDRs are great. Some people think SDRs are like, "What do they do with SDRs?" By the way, you probably enjoy the meetings that are SDR set for you. Right? Dan McClain (06:27): Oh I love them. Chris Beall (06:28): And they're pretty good. You get good reviews. Because people tell you, "Hey that Sal or Crystal or whoever..." Dan McClain (06:36): Yeah. Quite often, Hey, the reason I took this meeting is they were persistent. They were professional. They just really handled the conversation nicely. Often that's a big part of it. Chris Beall (06:48): So you get meetings there, but you're your own SDR. Right? And you're a student of the game, you're student in the craft, I've been known to call you and mention that you may have drifted a little bit on a conversation and you take it with curiosity right after you [inaudible 00:07:02]. Dan McClain (07:02): I'll never forget that call. I was standing right out there in my backyard, right by the Palm tree. When you called me and said that. I said, "No, I'm not drifting. I've got this. I'm not drifting." You told me to go listen to a call. I went and listened to a call and I was like, "Ah, he was right." Called you back, "Chris. You're right." Chris Beall (07:23): I thought that was an interesting conversation. I was driving across the Sierras with a load of stuff from my house. I was moving to Reno and I'm listening to this conversation I'm going, "Is that Dan? That doesn't... That doesn't... That sounds like somebody else. What is he saying? Why is he saying it?" It was pretty interesting. Let's talk about that for a moment though. Because it's really interesting this whole, so here's this company that you were working with and they had unusual SDR team. Right? Their minimum age was, I don't know, 50 something. Dan McClain (07:55): They looked like me. Chris Beall (07:56): Just like, yeah. I'm older than you are. The oldest one was I think in the maybe pushing seventies, maybe. Dan McClain (08:03): Maybe low seventies. Yeah. Chris Beall (08:05): Low seventies. And they went to Flight School. Now, these are highly experienced people. I knew you were in the deal. I wasn't in the deal. I knew somebody at the company. So I was kind of peripherally associated with it. First of all, why would somebody with all that experience in your mind go to Flight School? Why'd they do that? I mean, I know it's what we offered them but they could have said, "Nah, let's not do that." And do you remember, just walk us through that? You've got these folks, they were good. Right? They were converting it- Dan McClain (08:34): Yeah, [inaudible 00:08:35]. They converted highly even on the test drive. And it was interesting because in that negotiation, that we were looking at, "Okay, how are we going to use this?" We thought "It looks like they were going to buy big." And then interestingly enough, they actually came back and they bought really small. But buying small, just allowed us to come in and go through this flight school motion and show them the art of the possibility. And we took them from really good to great. And that's one of those customers where every week when I just log in and peek on what they're doing, puts a smile on my face. Chris Beall (09:17): Yeah. And it's such a non-obvious play. We had somebody on the other day on the show, Jennifer Standish and Jennifer makes the claim that we should be hiring grandmas to be SDRs, because they've got the voice and they know how to tell people what to do in a way that makes them do it, but not feel bad. That's kind of interesting when you think about that insistence close, right? The Cheryl Turner insistence close, it kind of has to do with telling somebody what to do and having to feel good about it. Right? Dan McClain (09:48): Yeah. So interesting. I've been leaning on you with some help, some different customers and you keep telling that story. And then it got in my head and I kept thinking about it and then I was doing some prospecting and it was a really interesting call because I got the guy at the right time because he said, "I'm currently looking for sales amplification." is what he said. We got that. That's what we do. And he goes, "Can you just send me something? So because I'm looking at all kinds, just send me something," I said, "Tell you what, I send you half a page. Dan McClain (10:22): And then also just I'll go ahead and send you the calendar invite for Thursday and we'll move it if we have to." That's the Cheryl Turner insistence close. And the guy said, "Perfect, I'll give you 15 minutes." I said, "Great. That's all I need." And then after that call, I hung up the phone. I called you to tell you about that experience. And then based on your recommendation, I called and I was talking to Cheryl about it. And then I went off and listened to some of her calls. And some of the stuff that she does, it's so subtle, but just there's so much genius in what she's doing. Chris Beall (11:03): Yeah. I think this is funny. I have an analogy. Corey and I have used on this. You're probably the only guy other than Corey who can speak to it actually, because you actually can't get me up even on a standup paddle board. My back is tight and it's hard to do. You surf. You're like a real surfer. Right? But my claim is I used to watch a lot of surfing and you know, I'm a physicist by background. Chris Beall (11:23): So I kind of, I don't know, picture maybe a little bit of what's going on and that interaction between the water, the board and the person. Where they are, what they're doing, how they're moving and all that kind of stuff. And my claim is, and this is a hard claim, not a soft claim. I don't think this is a fluffy analogy. The best analogy I've been able to come up with is this. In that ambush call, that one and only. Chris Beall (11:49): The only time you're ever going to talk to somebody for the first time. That script is like a surfboard and your voice is the surfer. Your voice is where the artistry comes from. And what you feel when... And you can speak to this. And I want you to actually speak to it. Tell us a little something about what it's like to surf and what it's like to surf, big stuff, scary stuff, hard stuff, whatever it is you've done. But when you're doing something like surfing, you're feeling the world that you're in and you're feeling it millisecond by millisecond and you're adjusting to it. Chris Beall (12:27): And you're adjusting to it with a combination of balance and positioning. But it's things you know you're doing, but you don't quite know exactly how you're doing them, but you know, you learn to do them kind of thing. Right? And I think that Cheryl Turner dance that she does with people where the words are the same, the surfboard's the same surfboard, but the conversation is always unique. It always has for a voice in it. Dan McClain (12:53): That the conversation is always unique, because there's another thing that you have to bring into this analogy used and that's the wave or the water itself. Dan McClain (13:53): It's always changing. Even if you surf the exact same place every day and it's dictated by the sand underneath the water, because that's always moving. That's fluid. So every single day, the shape of the wave's going to be different. The speed is going to be different based on maybe some storm in Australia or Japan. So even at the same exact place, every single day, that's different. Dan McClain (14:17): So just like the conversation or the person you're talking to is going to be different and you have to adjust. And then there are some things that are on autopilot, as you're paddling into the wave where you put your hands on your board and you pop up. I don't think about that anymore. My body just does that. But what I'm doing is, I have to decide what angle I'm paddling into the wave based on the speed of it, the size of it and the shape of it. And that's always different. And I know that I have to only look forward at what the wave's doing, because if you look behind you, it looks too big and scary. Chris Beall (14:54): Oh interesting. Dan McClain (14:55): Then you'll pedal backwards and get out of it. But when you're charging into there's so many factors that are constantly changing. So it's not like skiing or snowboarding. I mean the movements might be the same, but that medium, that you're on, you can look ahead and you know what it is. Chris Beall (15:16): Yeah. Dan McClain (15:17): And it's only vast experience to know, to be able to look ahead and know what it's going to do. And what's interesting is it's different every day. Chris Beall (15:27): Yeah. And you're a little different every day too. So one of the points of that, and I remember talking to Corey about it, I was trotting around and it was actually the day I saw that boat that I got behind me. I was trotting around in Sydney, Australia. And I was on the phone with Corey and we're talking about this surfboard, surfer analogy, which now you've added the wave to. And one of my points is, look, if you're learning to surf, nobody throws you like an old door and says, make yourself a surfboard. Right? I mean, it's the shaping of boards is an art and science that's come to us through what's 70, 80, 90 years of people having experience with the shapes, the materials, the thinning, all that kind of stuff. You'd [inaudible 00:16:16]. Dan McClain (16:15): Yeah. And it's still evolving to this day. Chris Beall (16:18): Yeah. And you'd be an idiot as a young surfer to think you're going to reinvent making surfboards before you even know how to surf. And yet, we ask young SDRs to make their own scripts. Dan McClain (16:31): Yeah. Chris Beall (16:31): And I think that's crazy. I mean, do you think that's crazy? Dan McClain (16:37): I think that's crazy town. Why would you put the tip of this spear, the message that's going out about the company, into someone's hands that's probably only been there X number of months. It's that simple. Chris Beall (16:54): Yeah. Well just, I mean, I am willing to bet there are people who shape boards who are really good at shaping boards, making a surfboard that really works well, who are not themselves, the greatest surfers in the world. Dan McClain (17:07): True. They probably look like you or I. Chris Beall (17:11): Yeah. Well more like you, because we get to me and we're off the surfing category and we're into the can't stand up at the paddle board category. But I think it's quite fascinating if this analogy... I think this is a legit analogy. I think this analogy maps, as they say in the world of math, one to one and onto. Every part of it maps to the other part is supposed to map to, and you can reason from it. Right? And if you believe it, you would say, "Well, I would never have a rep make up their own script." Chris Beall (17:42): I wouldn't do it, because what are the odds they're going to make one based on 50, 60 years of experience across not themselves, but I think of that board shaper, they're not just taking their own experience, they're taking the experience of everybody who's ever made a surfboard. And they're putting it into the next one. Whereas when you get on that board on a wave, you're taking your experience, you're making it more subtle, more effective in time. You're a little quicker to do the thing that needs to be done to be the place you want to be to get the thing done, than you want to do than you were a year ago, two years ago, 15 years ago, whatever it happens to be. Dan McClain (18:20): They should not even be in that loop of communication. They should have it given to them. Then they should be trained on it. Chris Beall (18:26): Yeah. I agree. If you wanted me to surf you better give me a board. Dan McClain (18:30): What's so interesting is go on LinkedIn and look at this subject there will be hundreds of different opinions. Chris Beall (18:40): Yeah. Oh yeah. Oh you mean the subject of should reps make up their own script? I know what the argument is for it. Well, they got to be comfortable and you know what- Dan McClain (18:50): I don't people think that, but really they don't. No one cares about that they shouldn't or people do. Should you really care about their comfort or the comfort and experience of that person that they're talking to? That's what's important. Chris Beall (19:03): Yeah. I mean, I've said it before, if you're an SDR... And by the way, if you're an account executive and you're calling for yourself, like Dan does, you're an SDR at that point. [inaudible 00:19:13]. You're not magically skilled in first conversations just because you're capable of closing multimillion dollar deals. That doesn't translate. It's like the fact that I can do all sorts of... I can load the car up. You can get all the gear in it. I can drive it to the beach. Look at all my skills. Well, at some point you're going to have to get on that damn board, right? Dan McClain (19:36): Yeah. Absolutely. And that's uncomfortable. So is having a script just put in your hand and told that what you're going to say. That's uncomfortable. I do things every day that to me feel uncomfortable, but I may be old enough to know it's not about me. And we always joke about this. Nobody cares about my feelings. Chris Beall (19:58): You always say that about me, that I don't care about your feelings. I don't, but I care about your wellbeing. Dan McClain (20:04): There we go. Yeah. And I get it and it's awesome. Chris Beall (20:07): It's, it's a funny thing. Well, for folks that are managing teams out there and that's who you're mostly working with, is people who are managing teams and you see there are struggles, even once they have ConnectAndSell in the hands of the team. And you have resources you can draw on. You can draw on Donny Crawford and his team. There are conversation optimization folks and they'll come in. I think we just did something today, right? Didn't we do something with a flight school session with a- Dan McClain (20:36): We did. Actually had two going on today. One that Gavin was running and then one with the transportation company that you've been helping me with. It was me and a newer to them director of business development and he runs the team. And it was such an exciting day, because we had made some tweaks to the messaging that simplified and that the reps actually felt good about. They felt good about, I felt good about it. We ran it. And in a very short amount of time, we had two meetings on the books. Dan McClain (21:09): And what was even more exciting was I saw that sales leader turn the corner on. This was the first time he was critiquing the reps, telling them what to do. And it was one of those calls where I was actually dreading it, because I didn't think it was going to go well. And four or five times during that call, I got the chills. The hair on my arm was standing up, because it was exciting. And he and I were in there together figuring things out and everyone on that team I think left excited about what we were all doing together. Chris Beall (21:49): That's fantastic. Dan McClain (21:50): This quest of market domination. It was awesome. Chris Beall (21:54): Well, I know that those guys are very serious about market dominance. They really are. And that's, as we say, we curate dominance here. ConnectAndSell is such a delight. I mean, how many people get to say this in a sales job that you're doing something. whereas part of the job, every once in a while, you know the hair does stand up on your arms, you get those chills. I was talking to Elena Hesse the other day and she was on the show. Chris Beall (22:18): And she said to me, first time we talked, she said, "I have tears in my eyes." I said, "I do too." We're two grown people out here listening to these reps, move forward in a way that's so exciting. They're having so much fun and they're doing so much business. And it's right here in front of us. There is something about watching the world evolve at full speed right in front of your eyes. It's just kind of professionally unusual I guess I'll put it. It's like who gets to have this kind of fun? Dan McClain (22:49): Yeah, no, it's true. It was such a great day. And it was just one of those things that just invigorated me that will probably last a month. So I'm going to need another one of those sometime within the next month. It was just awesome. Chris Beall (23:03): More flight schools. Well, I have to say you've been here a long time. What are your thoughts? Some people kind of thought flight school was crazy. We're not in the training business, plenty of people out there to train reps. I always thought the ecosystem would take care of it. There's these incredibly strong trainers out there. Chris Beall (23:21): What is it you think in looking at connect and self flight school, which for those of you who don't know what it is, it's a four session blitzing coach experience for a group of reps and their manager live fire, talking to real prospects where they're under pressure as a result. And yet the coaching is not of the whole conversation. I think the first two hours we coached just the first seven seconds. And the second two hours we coach just what we call the 27 seconds, the value part. Chris Beall (23:51): And then the third two hours we coach just what we call turbulence. That's why it's called flight school. Take off flying somewhere. Plane goes like this, the objections that you only get in a cold call. And then the fourth sessions, how to get the meeting. How do you ask for the meeting. Landing the airplane, all we beforehand, we have this messaging workshop and a little kind of an icebreaker session. Chris Beall (24:12): So, that's what it is. I never thought we should have such a thing, even though I'm the guy who came up with it, sort of working with Janie Wall and James Townsend down in San Antonio at a customer... Is it a big deal to you or is it just another training thing or did you think it was a good idea when you first saw it? Or did you think like I did? It's like I came up with it, but I was still pretty skeptical about it. Dan McClain (24:35): Yeah. Well, like a lot of things... At first, I was uncomfortable with it til I kind of have experienced it. And then eventually we put our team through it and guess what happened? We all got better. We all learned stuff. Chris Beall (24:47): Wait, you guys, I remember this, we do this regularly. Like you went through flight school, but you guys have like five, six years, seven years of experience using ConnectAndSell. Why would you need to go through flight school? What did it help you do different? Dan McClain (25:00): No matter how good we are, A we drift, like we talked about, but you can always get better. It's about keeping that spear sharp. If we stop doing our blitz code sessions on Monday and Friday, it would be easier for me, but you know what? Would I get that coaching? Would I get a chat with Gavin or Donny or Nate? "Hey, you're doing this, try this." "Hey, I heard something." Chris Beall (25:25): Yeah. So you and I both cook a little bit, maybe even a lot, right? We're having wild board tonight just for you. Dan McClain (25:31): Oh fantastic. We're having pizzas. This has been a frustration for me. I can cook. I'm not a baker and I have one of those pizza ovens. And I've been buying the crust at the store and I'm having a problem getting the temperature of this pizza oven correctly. Because, what's happening is the top of the pizza's burning before the crust is fixed. So actually a friend of mine is a restaurateur and they're actually sitting out there having some beers. And when I'm done, we're going to go cook some pizzas together. Chris Beall (26:03): All right. Well I hope it works out well. I'm going to make a point, a sharp edge point, which is we both spend a fair amount of time on occasion the kitchen. I think I'm a pretty good hand with a knife taught by an ex Navy chef. Worked an aircraft carrier and you know a typical Navy chef. He didn't put up with any crap in the kitchen right? Down to, you're going to hold the knife, thumb and forefinger on the blade to stabilize the knife. You've [inaudible 00:26:28] just holding it by the handle like you're whipping a baseball bat around all that kind of stuff. He taught me everything about that stuff. And yet still to this day, I'll take a knife out of the drawer and I will lazily continue to use it when I know it's not sharp. [inaudible 00:26:49]. Dan McClain (26:48): My friend in Texas, he has a knife sharpening business. Anytime, like if we're going on a week vacation, I send him my knives. Chris Beall (26:55): Oh, that's good stuff. So to me it's like that. It's like a knife can look sharp without being sharp. And it's when you go to make that cut and a ripe tomato is probably the most telling cut. Right? Because if your knife is sharp, you feel it and you feel it in that first little motion. Right? Because the knife is curved to allow you to move straight forward, but still be cutting down and you'll feel that little tug. And you go now the question's, what are you going to do? And I think that the way you guys get tuned up in flight school is a lot like that. You feel that little tug and it's easy to be lazy and not sharpen the knife. Dan McClain (27:37): Yeah. And it's so interesting, because if you're not sharp, a lot of meetings will slip through your fingers. Yeah. Why that happen all the time? I'm like, "I think I could have got a meeting with that person." That meeting that I got this week using the Cheryl Turner insistent close, I will be honest part of it was just right person, right time. But part of it was the way I executed something- Chris Beall (27:58): That has to be a lot of it. Cheryl runs 30%. Dan McClain (28:00): Yeah. I'm not running 30%. I'm trying to get better. Chris Beall (28:05): Listen to on those industrial air compressors in those medical office buildings, [inaudible 00:28:09] crazy stuff. Dan McClain (28:10): It is. Chris Beall (): But it does show it's an art form. Helen and I listened to Cheryl one day. We listened to a whole bunch of conversations. And Helen was thinking about actually cold calling the hundred VPs of one of her big monster companies that was part of her account base. Hundred VPs of HR. And she asked me, "What is this cold calling really about?" And I said, "Well, let's listen to Cheryl." Chris Beall (28:32): And so we were listening to Cheryl, listening to a bunch of conversations and Helen, who's a cute observer of these things, she says, those micro pivots, same words, but that little pause, that little laugh, that moment of expressed empathy that I'm with you, that expression of being a peer, always never being put back, but never pushing back either. Chris Beall (28:58): She said, "That stuff is amazing." She said, "I didn't realize what you guys work with is an artistic medium. And it's truly an art form." And I actually think this is something I have to say, if I could ask folks who are watching this thinking or, or listening, thinking about it, we call the use of ConnectAndSell, learning how to cold call. We call it finishing school for future CEOs. Chris Beall (29:26): Because the one thing you've got to be able to do to be good in the CEO job, is hold conversations without a lot of prep with strangers that go better than they would've for somebody else who might not be able to make those little moves, have that feel. That the feel for the situation and be able to help somebody see something in a new way, which is kind of your main job as CEO. Chris Beall (29:49): It's the main job as a salesperson. They're very similar jobs. Before you joined ConnectAndSell or no, before you used it for the first time, would you have said that you thought that cold calling or cold conversation was an art form or would you have said yes, just something you do or what would you have thought about it or did, did you not think about it? Dan McClain (30:09): I think at that time, knowing what I knew then, it would've been very easy to hop on the cold calling is dead bandwagon because then I wouldn't have to do it. And I could feel good about not doing it. Even, though if it's like exercise. You know you should. Chris Beall (30:27): Yeah. Dan McClain (30:27): It's hard to take that first step. But if you do not good things just might happen. Chris Beall (30:33): What is funny too? Because it's like exercise and that you're doing it for yourself. And yet folks will act like they're being told to do it for somebody else. You're really doing it for yourself. I mean, you really are doing it for yourself. I've looked at the numbers, our numbers break down today. This quarter, the bulk of the dollars and the bulk of the deals have come from you guys. Chris Beall (30:54): You account executives being your own SDRs and that's even though you have a world class SDR team armed to the teeth with a high performance weapon using it all day long setting meetings for y'all. But I have a funny feeling that when you set a meeting for yourself, that there's some subtlety in there somewhere that allows you to be a little bit better in that meeting. That you killed that boar and now you're cooking it. And I think you're going to cook it a little bit better. Dan McClain (31:25): Absolutely. In fact, when I schedule the meeting myself, when I send it out, I put a little asterisks in a certain spot in the invitation. So I know that's one that I scheduled and yeah, I do. I come to it, I think with a little more of everything, little more excitement, a little more aggressiveness. I'm going to be sharper, clearer because I know that this one I got. Chris Beall (31:49): Yeah. It's a funny thing. I think it's the most subtle thing. Let's wrap this up. Our audience is... We have people all up and down. We got SDRs who listen to Market Dominance Guys, because I guess they want to be CEOs and owners of businesses someday or chief revenue officers God what they're going to be. And then we got people kind of like, you're Henry Washala who took his whole business part, put it back together after binge listening to the show for four days. Chris Beall (32:17): We got a lot of folks. I know you're not a big advice giver. You probably don't give advice to people for a whole bunch of good reasons. Most of which is you're kind of too humble to think what you're going to say is going to make a difference. But I want you to get out of that humble posture for a second and just give folks listening, just one piece of advice from your career. And it has something to do with what we've been talking about. What would you tell somebody if you just had to tell them and then you got to go away. Dan McClain (32:45): I would say, kind of back to this whole notion of should the SDR say what's comfortable versus should you give them a script? Find out who's the most intelligent person in the room and listen to them. Usually that's someone with a C in their title, usually. Chris Beall (33:02): Yep. That's interesting. On that. We're going to wrap this up. Dan McClain, you have been a marvelous guest on Market Dominance Guys. I think we're going on in episode 130 something at this point. Proud to have you on. Proud to be on your team and excited looking forward to what we're all going to do together. And I just think about those companies, those people you're helping pulling the cork out of the innovation economy, letting value flow. And that's what makes a hair stand up on my arm. So thank you so much for being on the show and for being you. Dan McClain (33:31): Yeah. Thanks for having me. I was a little nervous. This is my first podcast. I didn't know what I was getting into. I'd love to come back anytime.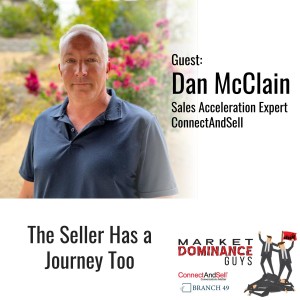 Tuesday May 17, 2022
Tuesday May 17, 2022
You're no doubt familiar with the buyer's journey, but what do you know about the seller's journey? Dan McClain, Sales Director at ConnectAndSell and today's guest on Market Dominance Guys, shares his personal journey as a salesperson with our host Chris Beall in this first of a two-part conversation. Starting at the beginning of his career, Dan tells the story of how he got into sales straight out of college, what his early selling experiences were like, and how he cold-called his way to where he is today. Most memorable for him was his first experience using ConnectAndSell Lightning, the cold-calling tool that boosts the number of conversations a salesperson can have with prospects. Pushing that "Go" button and being served one conversation after another changed his life and led to his current job selling Lightning at ConnectAndSell. Helping other salespeople discover this tool is now Dan's mission. Listen in as Dan and Chris remember the details of their first meeting in today's Market Dominance Guys' episode, "The Seller Has a Journey Too." About Our Guest Dan McClain is Sales Director at ConnectAndSell. His life-long dedication to sales has led him to his current goal: helping sales leaders, teams, and individuals connect with their targets at a velocity of 10X by using ConnectAndSell Lightning. Dan is based in the San Diego area and is active in his local chapter of AA-ISP. Full episode transcript below: Chris Beall (01:24): Hey Market Dominance folks, it's Chris Beall and I'm here without Corey Frank, which is a bit of a shock because I lean on Corey pretty hard. He always comes up with the cool questions and he's got the literary references and he's got a tie on, which is nice. Dan McClain (01:42): Oh. Chris Beall (01:42): You don't see one on me. I know Dan. Dan McClain (01:44): You could have worn a tie. [inaudible 00:01:46] Chris Beall (01:46): And instead I'm here today, not instead but normally we'd have Corey, but now I'm all by myself as a host except I've got Dan McClain. Dan McClain, among many other things that he does including things involving surfboards and riding vehicles across sandy terrain that doesn't look safe at all to me. Dan McClain (02:06): Absolutely. Chris Beall (02:07): And shooting the occasional wild boar and eating them. And growing tomatoes in a way that I've never seen another human being grow tomatoes, including naming his tomato plants appropriately. Dan McClain (02:17): True. Chris Beall (02:18): So Dan is also somebody who works for ConnectAndSell. He sells for ConnectAndSell. I don't know if he properly sells, he'll describe what it's actually like I'm sure. But Dan, welcome to Market Dominance Guys. Dan McClain (02:30): Thanks for having me. This is my very first podcast. Chris Beall (02:34): Oh my God. I'm excited. No wonder you're wearing white, you're a podcast virgin. Dan McClain (02:39): That's right. Absolutely. [inaudible 00:02:41] And my hair too. Chris Beall (02:42): Fantastic. And notice that Dan has a Flight School shirt on, I got a Flight School shirt on. We are as twinsy as can be right now. So Dan, just a little background. How did you fall into the world of sales, and especially sales that involved anything resembling software? Is this like your dream when you were a child? Is it something that you got hit in the head once? I know you surf and sometimes you could hit your head surfing I bet. Dan McClain (03:11): It's true. Chris Beall (03:12): What happened? Dan McClain (03:13): Well, growing up I always knew I was going to be in sales. My father was in sales but, it was different back then. He was in industrial sales and he covered Minnesota, Wisconsin, Iowa, kind of the Midwest belt, and he would drive his car around and he had an expense account and that seemed kind of cool. Chris Beall (03:34): Interesting. Dan McClain (03:34): And I'd hear him on the phone every once in a while. And I thought, "That's what I want to do". Chris Beall (03:38): Wow. Dan McClain (03:38): Well actually then college, I had to put myself through. And I learned very quickly that the traditional jobs that one can get when you're in college aren't enough to pay for college, even way back in the late '80s, early '90s. And so I had to be creative, and I actually started a couple of my own small little companies. A volleyball business, where we taught leagues and lessons and ran tournaments. And also a valet car parking business at a very cool restaurant in Minneapolis called J.D. Hoyt's. And doing that I kind of learned some entrepreneurial things. Dan McClain (04:16): And then towards the tail end of college, a friend of mine had a sister who married an entrepreneur that ran a company called Skyline Displays, they make trade show exhibits. And he saw what I was doing and he thought, "I'd like to hire this guy and send him off to California" to do what they called "R&D sales". Because what they used to do is they'd come up with something new, they'd release it to the field before it was ready, and then it was very expensive to make a change because it was on such a grand scale. So they thought, "Why don't we just have one person go try to sell some new stuff". And I just kind of fell into it. I moved out to California pretty much the day after I graduated from college. And that was a very interesting move. December 5th, 1995, very cold Minnesota day. I drove out to Newport Beach and it was one of the happiest days of my life. Chris Beall (05:04): That's what they call a selling point. Dan McClain (05:10): Absolutely. And when I went out there on the recruiting trip, they were very smart. They flew me into the Orange County Airport, and when you walk out of the Orange County Airport you see green grass and Palm trees. So I told myself, "I hope it's a good job because I'm taking it". And I think like most people in sales I was young, started off, struggled, and it took me a while to hit my stride to kind of figure out what I wanted to do. And then I had a roommate who was a recruiter. He goes, "Hey you're in sales, but you're kind of struggling. I got this customer that's looking for [inaudible 00:05:43] and they're a software company. Do you know anything about software"? I said, "No", but it paid more money so I took that job. Dan McClain (05:50): And then I was in software for 10, 15 years. And then my company did a ConnectAndSell test drive. I was one of the test subjects using the weapon and it was interesting. I didn't know what I was getting into. And when you use ConnectAndSell, turn it on, you hit that green go button. Well when it was time to hit that green go button, president of the company standing here, the VP of sales is standing here, these are big verbose gentlemen. They're like, "Turn it on"! All of a sudden my hands started shaking, my brain went blank, and I hit the go button. And the first conversation came fast, 30, 40 seconds. I don't know what I said. It wasn't intelligent or legible. The person hung up. And they yelled, "Do it again"! Did it again. Then the second conversation came fast, and it was, "Hey, yeah call me next week. I think I want to talk to you". And the third guy picks up the phone, I schedule a demo, a meeting, boss and the president leave me alone rest of the day. I think I scheduled two more meetings on my very first day and it was awesome. Dan McClain (06:53): And then I used almost every day. This was back in the days when people traveled, I was covering 10 states. And I was Account Executive, didn't do a whole bunch of prospecting, but I used it very specifically to call my [inaudible 00:07:07] task list and sales force. And it worked so incredibly well for me because I was calling the CIO or the VP of IT of a billion dollar company that ran SAP. And I was selling very expensive software to bolt onto that to make it run better, faster, stronger. And used it for two or three years and got to the point where every time I'd turn it on a little voice inside my head would tell me, "Dan, you should go sell ConnectAndSell". So I got to know you, called up you. I think I sent you some referrals, tried to get in somehow. I told you I wanted to join the team, we had a couple conversations over a couple months and you introduced me to Jonti McLaren, our SVP of sales. Went up and met him and been a happy member of the team now for five, almost six years. That might be more information than you're asking for, but that's how I got into sales from then up until now. Chris Beall (07:57): Wow. That's really good. Thank you. That was really tight. Yeah, I remember talking to you. I remember that call when you called me. I was walking down Santa Cruz Avenue, Los Gatos, California. I was just about to go to the Great Bear Coffee shop and get myself I think it was an early afternoon latte. And I think we talked for quite a while. I think we talked for quite a while actually, and I was impressed that you would call me and that you actually used ConnectAndSell. And so I was pretty sure that you were going to do something here one way or another. You know it is kind of funny how many of our really, really top people in the company are former ConnectAndSell customers and users. And so James Townsend used to use ConnectAndSell, and he also ran part of a company called Halogen and did right things there. Donny Crawford, I was just talking to Donny as our Chief Flight Instructor. He used to go in and do job interviews when he was a rep. And he'd take them all the way through and they'd make him an offer and he'd go, "Oh by the way, I'm not working for you unless you get me ConnectAndSell. That was his thing. And you know Donny pretty well, it's kind of hard to imagine him doing something like that. Dan McClain (09:03): Yeah. It's interesting. Chris Beall (09:05): He was consistent on it. It's true. A lot of people. Jonti McLaren was our SVP of Sales and Marketing. Everybody thinks that Jonti joined the company because his dad is the Exec Chairman, was the CEO back in the day. But in fact that's not why at all. Jonti built his first company on top of ConnectAndSell and he sold it and did pretty well, right? His Tesla looks better than our Subaru I guess [inaudible 00:09:28] Dan McClain (09:28): Yeah. And wasn't his use case a little bit different? Was he the CEO of the company or the Chief something, and he was using it to find business but also to gauge the market interest in what he had? Chris Beall (09:40): Yeah. Yeah. It's interesting to me, you said your first sales job where you had a real sales job was like, "Go do it", was actually a market exploration job. And that's a pretty unusual sales job, especially for somebody whose kind of new to it. Think about it. It's like, "Why am I going to trust this new guy to go off and bring me a signal back from the market"? Somebody had a lot of faith in you. This job right now is kind of like that though, right? There's something about ConnectAndSell, you always feel like you're selling something new. Do you have any idea why that is? I mean it's kind of funny, right? Because I can describe it. I was talking to a potential investor today, and I can describe it in like two sentences and they get it. It's really hard to get business people on the phone in order to explore business to business. Right? It's just hard. ConnectAndSell lets you do that by pushing a button and waiting a few minutes, talking to somebody. That's it. That's what it does. And yet. Dan McClain (10:28): [inaudible 00:10:28]. Chris Beall (10:28): And yet. It's what is the factor that you see? Because this is about market dominance, right? So we're always talking about, okay you can use a human voice to dominate a market. You go right into somebody's midbrain, right in through their ear. Email gets blocked by all sorts of things. It doesn't get to you in spam. It sits there and annoys you. If you open it, you don't read it very much but it's only got 500 bits information in it or 5,000 bits to start with. Here you are inside of somebody's head. You know when you sit at a restaurant and it's quiet and you're trying to focus on something, I don't know you're reading your email or whatever. And the person next to you is chewing in a way that's just horrible. It's just obnoxious, right? You can't turn that off. Chris Beall (12:00): You can't make yourself not hear it. You're stuck, right? So when you cold call somebody, cold conversation them, you're inside their brain just like that chewing, but you better be doing a better job of whatever. Dan McClain (12:11): Yeah. Chris Beall (12:12): Some people get it, some people don't. What is it that you see that divides the sheep from the goats? Or as we say, the pigs from the weasels? Dan McClain (12:20): That's interesting. And I was on a very interesting blitz and coach session with a customer today. And we were listening. I think the one really huge thing is just the confidence in the voice. Am I talking to someone right out of college that's reading whatever they're saying off this piece of paper? Or do they sound like a peer that I may want to engage with? We had one of the reps and we said, "Hey, it sounds like you're reading off the script. And you have to stress the word I believe and sound like an expert". Very next call, we're listening. He goes, "I believe". He really stressed it, like overstressed it, and you could tell he got the person's attention. And he wasn't smooth, but he at least had added confidence to his pitch. Scheduled a meeting. Chris Beall (13:10): That's fascinating. So how did that happen with you? I mean the first time you pushed the button, you got a president standing over one shoulder, you got a vice president standing over the other, they're yelling at you. It's like having big Matt Forbes yell at and tell you to hit the button. Which [inaudible 00:13:25] used to do [inaudible 00:13:26] Dan McClain (13:25): Yeah. These were intimidating guys. Chris Beall (13:30): So you hit the button and it was confusing at first. When in that process, you got a couple meetings that day, did you get comfortable on the first day of ambushing people? Dan McClain (13:39): Absolutely. I got comfortable actually after the second conversation where the guy said, "Hey, busy. Call me next week". Because I knew he was interested. I knew he actually wanted to talk to me. The challenge was it was the CIO of a billion-dollar company. And it was that moment where internally I think I switched gears. And then when I had that third conversation, I didn't feel nervous anymore. I felt confident. And then it was just a natural conversation where I didn't sound like some young person that doesn't know what they're doing so they have to read something off a piece of paper. I sounded like a peer that maybe he actually wanted to engage with. And he had also expressed interest in what we did. Company was Suncor Energy, it was the CIO and they had said, "Yeah. We want to put Redwood Software", the company I worked for, "We want to put them as a line item on a 300 million process improvement project". So in the SAP space, we were on the bill of materials. We were one line item. Chris Beall (14:43): Wow. Dan McClain (14:43): Yeah. And after that third call, I actually put my feet up on the desk and I realized that ConnectAndSell was doing the worst part of my day. Sales Force, dial, voicemail, reschedule. Sales Force, dial, talk to that mean gatekeeper, voicemail. It did all that for me. Chris Beall (15:02): Yeah. Dan McClain (15:03): [Inaudible 00:15:03]. Chris Beall (15:03): It's interesting. So you got it like that, and now you sell it. So you get to watch people getting it or not getting it. And so you pointed out somebody sounds like they're reading because they are reading, or they haven't been coached to use their voice appropriately and they can get a little bit stuck. Do you have a point of view about the order in which things ought to happen? Like what we do today is we'll hold a test drive. And a test drive for those of you listen to this don't know what it is, it's a full day of production with ConnectAndSell. Chris Beall (15:37): Tony Safoian who was CEO over at SADA, I was on his podcast and I asked him, "Didn't you guys make some money during that test drive at ConnectAndSell?" And he laughed. And Billy Franz, whose his VP of Inside Sales at the time, said something along the lines of "Chris, we made tens of millions dollars pipeline that day". And that was in three hours, right? So you would kind of think, "Well, okay. No brainer. No brainer". But that's how we sell, and it works pretty well but sometimes people they won't even listen to you to take a test drive. Right? Dan McClain (16:13): That's true. Chris Beall (16:13): Have you broken that down in your mind as to why? I shouldn't say it's irrational, but we offer test drives for free. The test drive is always educational. It's always fun. I've never had one that wasn't fun. I've been associated with God knows how many of these things. 1800 of them or something like that. They're always fun. So you got something that's fun, your reps are going to like it, it's educational, it's going to reveal the truth about what they're saying. Dan McClain (16:40): Mm-hmm. Chris Beall (16:40): Oh my God. That'll be interesting. And yet folks often go, "Yeah, I don't know about that. I don't want to take that test drive". What do you think is going on inside those people? What do you do about it? If anything? Dan McClain (16:53): This is something that has baffled me that I've been pondering for years. I have no idea. And it's such an interesting thought, because when I came and joined the ConnectAndSell team I really thought it would be as easy as, "Hey, you're a VP of Sales? You want your people talking to 10 times more people? Let's do a free test drive. Free". I really thought it was that easy. And then when I flew up and met with you and with Jonti, we went out for sushi. It was big Matt Forbes and Sean McLaren. Sean McLaren left, and then it was just me and Matt Forbes and he goes, "Hey, listen. Hey, listen buddy. This job is not easy. It's really hard". And I thought, "Nah". He really impressed upon me how hard it would be. And then actually a day before my official start date, I came up to that... There was an AA-ISP trade show in Dallas. And I'm thinking to myself, "I know how to use ConnectAndSell. I don't really understand this whole breakthrough framework we have". But I had it printed out and I'm thinking, "I better show Chris and Jonti that I'm not afraid and I better get on and use. And I better do it in front of them". That was a little bit scary. But I think I've kind of veered from your question. I don't know the answer to that question. Chris Beall (18:13): I don't either. I don't either. I always think it's like somebody says, "Okay, so here's the deal. Now mind you, it's only going to be one day but we're going to fly you and the kids to Disney World. And you're going to get to spend a whole day at Disney world and you're going to get to have nice meals at the restaurants and it's going to all be nice. Unfortunately, the sad part is it's only one day and you're going to have to fly home, but at least you'll know what Disney World's like. You'll know whether you and the kids like it". Right? Dan McClain (18:40): Yeah. Chris Beall (18:41): And I bet if you made that offer to some folks they'd go, "Ah, I don't know about that. That doesn't sound quite right to me". I don't know what it is though, but it's a very similar offer I think. There's got to be something hiding in there that neither you and nor I have figured out yet. Chris Beall (18:56): I have a bit of a thesis. It's got two parts. One is the too good to be true thing. That's too good to be true. Well in a way, rationally, what does it matter? But I don't want to waste my time. But I think the other thing is it kind of sounds like something that could be a bit of exposure for you if you're a sales leader. Dan McClain (19:19): Yeah. True. Chris Beall (19:20): And a little bit of exposure can go a long ways if you're not comfortable with it, and a long ways in a negative direction. And that may well be. That kind of speaks to market dominance. We talk about on this show, the only safe position to be in a market is a dominant position. Otherwise, someone else by definition is in the dominant position. And if they're in the dominant position, then you're working at their discretion. They can choose whether you live or die. The dominant player can always come undercut you on price, overspend you on whatever, out raise you on capital, attract better talent, have a snowball effect from better customers who then are willing to reference other customers. You name it. There's a book called The Gorilla Game that's about this very thing. Dan McClain (20:08): Mm. Chris Beall (20:09): As Geoffrey Moore wrote it back after he wrote Crossing the Chasm. And The Gorilla Game basically says this: In innovation anyway, and tech especially, all the chips go to the dominant player. The dominant player rakes in 90 plus percent of all the profits that will ever be achieved in that category. They take them all. And everybody else kind of serves them, whether they know it or not. They can think they're competing, but they don't know. Chris Beall (20:34): Sometimes I wonder whether folks... I don't say want it or not, but whether it's an uncomfortable idea trying to go after that dominant position rather than, "Well, at least this is the devil I know. And I'm kind of getting along. Why rock the boat, right? Why throw the grenade? Roll it down the hall and see what happens"? Do you ever feel that, or am I just kind of in a crazy place here? Dan McClain (21:01): Well I always try to look at things in the most simple manner. And when I think about that, I think what is the average tenure now of a VP of Sales? Is it 11 months? Is that still? Chris Beall (21:16): Well it's 17 months end to end. So if you're selling to him, you're catching them eight and a half months from their departure on average. Dan McClain (21:25): Yeah. I think if you catch them right in the middle, they're in a good spot. But if they're too new, they're too new. They're over their head swimming. Or if they've been there and they know they're on their way out, maybe there's apathy or maybe they're concentrating on where they're going to land next. It's certainly interesting. And it's also interesting the VP of Sales today is certainly not the VP of Sales even four or five years ago. Chris Beall (21:51): Hmm. How's that? Dan McClain (21:53): From what I see, they're not in control of as much budget. Or they just don't have as much decision-making authority. I'm seeing marketing departments have more, or just the CEO being more involved in those decisions. Chris Beall (22:07): Got it. Well we've always said, I've always said here, one of the challenges... And this is a market dominance challenge people got to think about is, marketing has budget for money, sales has budget for heads. Dan McClain (22:18): Yeah. Chris Beall (22:19): That's the tradition. And so sales leaders, their first order of execution is to make sure they got enough heads for next year. That's your number one job, right? It's your capital source. Dan McClain (22:30): Yeah. Chris Beall (22:31): So if you're an entrepreneur, you raise money in order to have enough capital to go to market and spend what you've got to spend to get the market you want and then also have a buffer against the unknown. And I think the way a VP of Sales might think about things is, "Hey, so it's November. My big problem is making sure I don't have 62 people, but that I've got 73 people. Because that's going to be my buffer". And now when we're assigning quota and we assign straight up, when some things happen say my top person walks out on day one of the fiscal, and now I'm going to face it. Because I don't think everybody really knows this, but you're going to pay about one times quota to replace your top rep if they walk out on the first day of the fiscal. If you do the math, it's going to be about their whole quota. Million-dollar rep is going to cost you a million dollars. Dan McClain (23:23): Wow. That's interesting. Chris Beall (23:24): Helen and I were talking about it. She was talking about a hundred-million-dollar rep. Imagine them leaving on the first day of the fiscal. Dan McClain (23:31): Wow. Chris Beall (23:32): That happens, right? I mean these are big, big numbers that are crawling around here. Dan McClain (23:35): That can be devastating. And I can't tell you how many times in the last six months I've heard it's really easy to go hire someone, it's really hard to go buy ConnectAndSell.