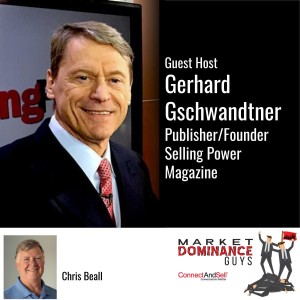 Tuesday Jan 11, 2022
EP116: Who's Ready to Buy Right Now?
When your prospect's response to your cold call is "Not now," do you assume they mean they're too busy to talk at that moment? Or perhaps this is just their way of getting rid of you altogether. Our Market Dominance Guy, Chris Beall, talks with Gerhard Gschwandtner, CEO and founder of Selling Power, in this podcast about a more probable reason you're hearing "Not now." It has to do with the replacement cycle and consideration cycle of businesses. In other words, where they are in the three-year buying cycle most businesses utilize for timing when they begin considering a new product or service — or replacing an existing one. Once you determine if "Not now" really means "We're not ready to purchase at this time," what you do next is critical! Listen in as Chris and Gerhard divulge the intelligent way to deal with the 11/12ths of the market who aren't ready to buy at this time. Take my word for it: You won't want to miss the market-dominating advice you'll hear on this Market Dominance Guys' episode, "Who's Ready to Buy Right Now?"
About Our Guest Host
Gerhard Gschwandtner is founder and CEO of Selling Power magazine, as well as CEO of the Sales 3.0 Conference series. Gerhard's career has always been centered around helping sales leaders create peak performance in business and in life through video interviews, online events, and live workshops and retreats.