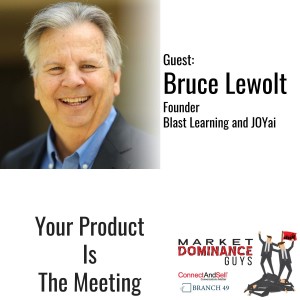 Tuesday Jul 05, 2022
EP139: Your Product Is the Meeting
How many cold-call opportunities have you wasted by pushing hard and fast to sell your company's product? Today's podcast guest, Bruce Lewolt, Founder of both JoyAI and Blast Learning, talks about a more caring and effective approach to selling. It starts with switching the goal of that initial call from selling your company's product to offering prospects a helping hand with a problem or goal they have. Imagine for a moment you're the prospect, and you've just been ambushed by a cold call: Who would you be willing to set an appointment with for a discovery meeting? A person blatantly trying to make a sale? Or a caring professional who understands your business' needs and wants? In this episode, our three well-reasoned and insightful sales professionals share many insights with our listeners about making a successful cold call, but the one you don't want to miss is this "aha!" moment. Your job is not selling your company's product: Your job is selling a discovery meeting. That should make the title of this week's Market Dominance Guys' podcast very clear: You're still selling something, but "Your Product Is the Meeting."
Listen to Bruce Lewolt's previous episodes in this series:
More episodes on the topic of Believing in the Meeting are here.
About Our Guest
Bruce Lewolt is Founder of Blast Learning, a service that uses Alexa or Google Assistant as an intelligent personal study assistant, resulting in a state-of-the-art study method that is not just effective but makes learning enjoyable. (See BlastLearning.com and BlastStudy.com) He is also the Founder of JOYai, the first emotionally intelligent and sales-savvy artificial intelligence system for salespeople, bringing intelligent automation to prospecting and selling.