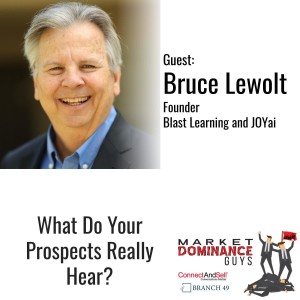 Tuesday Jun 21, 2022
EP137: What Do Your Prospects Really Hear?
How do you produce the emotional reaction that you want in those you are cold calling? Bruce Lewolt, Founder of both JoyAI and Blast Learning, has devoted himself to discovering the answer to this question. Bruce joins our Market Dominance Guys, Corey Frank and Chris Beall, to explain how even the most carefully worded message and well-meaning tone and pacing don't always have the emotional significance to your prospect that you had hoped they would. "When your prospect is only half-listening, what do they hear?" Bruce asks. Ah, that's the question! These three experienced and dynamic cold callers each share their well-thought-out theories on how to communicate authenticity, spark curiosity, and offer intrinsic value that will elicit the kind of response from your prospect that will lead to setting a meeting. Here at Market Dominance Guys, we are devoted to helping you answer the tough sales questions, like this one: "What Do Your Prospects Really Hear?"
About Our Guest
Bruce Lewolt is Founder of Blast Learning, a service that uses Alexa or Google Assistant as an intelligent personal study assistant, resulting in a state-of-the-art study method that is not just effective but makes learning enjoyable. (See BlastLearning.com and BlastStudy.com) He is also the Founder of JOYai, the first emotionally intelligent and sales-savvy artificial intelligence system for salespeople, bringing intelligent automation to prospecting and selling.