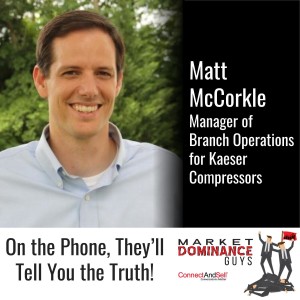 Tuesday Nov 09, 2021
EP107: On the Phone, They'll Tell You the Truth!
Coming from a background in mechanical engineering, Matt McCorkle, Manager of Branch Operations for Kaeser Compressors, is very interested in how sales works. He has always believed in the power of the telephone as a selling tool, so when he learned about ConnectAndSell's sales-acceleration platform from our Market Dominance Guy, Chris Beall, Matt immediately saw how he could use the telephone to increase Kaeser's market share. "Matt was so curious, unlike many people in sales," Chris says. Curious about how to get future appointments, how to coach coaches, how long onboarding takes, and about why face-to-face sales is different from phone sales. In this episode of Market Dominance Guys, Corey Frank and Chris learn what Matt has figured out: In face-to-face sales, he says, "people like you to leave feeling that they like you, and you like them, and everything's okay, so they're not really telling you the truth." But — as the title of today's episode of Market Dominance Guys states — "On the Phone, They'll Tell You the Truth!" Tune in to hear our Guys' and Matt's view on dominating your market through the awesome power of well-orchestrated and professionally coached cold calls.