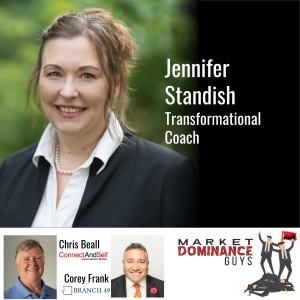 Wednesday Mar 02, 2022
EP122: Learning to Manage Your Voice Under Pressure
Jennifer Standish, Founder of Prospecting Works, is preaching to the Cold Calling Choir when she says that cold calling trainers don't spend enough time working with their people on their delivery. Jennifer and our Market Dominance Guys, Chris Beall and Corey Frank, all believe that a great script that hits all the points but has a terrible delivery won't get you any appointments. However, a great delivery — even if you're working with a mediocre script — will absolutely bring in the appointments. In this podcast, they also emphasize the importance of a salesperson's mindset when it comes to being a successful cold caller. If you think everybody's going to hang up on you, that everybody's going to be nasty to you, well, then, that is generally what you're going to get. But if you believe in your core that your product or service can truly help people, if you are certain of the integrity of your offering, then you can sell people on your belief. Why? Because your authenticity will come through to your prospects, loud and clear. Listen to this first of a three-part Market Dominance Guys' series by these three cold-calling gurus on today's episode, "Learning to Manage Your Voice Under Pressure."
Then, listen to the next two parts of this conversation here:
About Our Guest

Jennifer Standish is Founder of Prospecting Works, an organization that assists salespeople in overcoming cold-call reluctance. She combines her 25-year cold-calling career with her skills as an intuitive healer, offering a "warm and fuzzy" approach that attracts introverts as well as people who don't want to be considered salespeople.