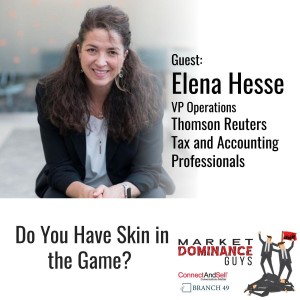 Tuesday May 03, 2022
EP:130 Do You Have Skin in the Game?
"When you go to a doctor, do you want that doctor to be excellent — or okay?" Elena Hesse, our Market Dominance Guys' guest and the Vice President of Operations of Thomson Reuters' tax and accounting professionals, poses this question to our podcast hosts, Corey Frank and Chris Beall. Their answer — and yours too, no doubt — is that they want doctors who love their job and do it extremely well. Elena, Chris, and Corey talk about how this equates to the role of the salesperson. In the old days, sales was generally a "hit and run" affair. You'd probably never see your customers again once the sale was made, so there was little reason to provide true value in a product or to develop and maintain a relationship with a customer. But in the modern world, most of us want to sell our customers an upgrade or an add-on or a renewal. So, product value and excellent customer relations are essential. In other words, if you want to be successful in sales today, our three sales experts say that it's crucial to have skin in the game. Oh, yeh. It's self-examination time. Evaluate your personal investment in your job as you listen to today's Market Dominance Guys' episode. "Do You Have Skin in the Game?"
About Our Guest
Elena T. Hesse, Vice President, Operations – Tax & Accounting Professionals at Thomson Reuters, has been with this firm for more than 13 years. Elena is also a thought leader for #GirlsClub, leading the book club discussions to support #GirlsClub and its continuing work of changing the face of sales leadership by empowering more women to earn roles in management.