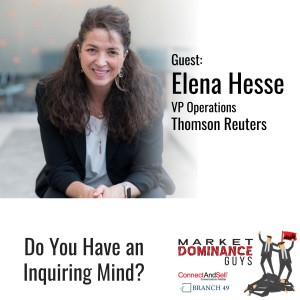 Wednesday Apr 27, 2022
EP129: Do You Have an Inquiring Mind?
"If you're not curious, you're not going to be a good sales rep." That's the well-considered opinion of our Market Dominance Guys' guest, Elena Hesse, Vice President of Operations of Thomson Reuters' tax and accounting professionals. As a naturally curious person herself, Elena has observed that "You can't be speaking more than you're listening" if you're going to learn what you need to know about your prospects and their businesses. You have to ask those insight-seeking questions and then truly pay attention to their answers in order to discover whether your product or service is a good fit for their needs. Our two podcast hosts, Corey Frank and Chris Beall, totally agree with Elena that the best way to establish a good relationship with your sales prospect is with an inquiring mind — not a sales pitch. Curious about what else these three have to say? Listen to today's Market Dominance Guys' episode, "Do You Have an Inquiring Mind?"
About Our Guest
Elena T. Hesse, Vice President, Operations – Tax & Accounting Professionals at Thomson Reuters, has been with this firm for more than 13 years. Elena is also a thought leader for #GirlsClub, leading the book club discussions to support #GirlsClub and its continued work in changing the face of sales leadership by empowering more women to earn roles in management.