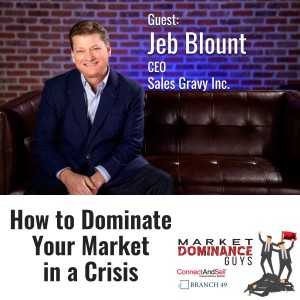 Tuesday Oct 25, 2022
EP153: How to Dominate Your Market in a Crisis with Jeb Blount
What changes should you make when you're selling in an economic-downturn period? Today's podcast guest, Jeb Blount, is CEO of Sales Gravy and a successful author and podcaster. With 15 books to his name, including his latest, Selling in a Crisis: 55 Ways to Stay Motivated and Increase Sales in Volatile Times, it's obvious that Jeb knows what he's talking about when discussing sales techniques during these troubled times. His suggestion? You've got to pay close attention to patterns, as well as the signals you're getting from prospects and customers. In this first of two interviews with our Market Dominance Guys' hosts, Corey Frank and Chris Beall, Jeb shares his advice about selling a price increase to customers, and about honing and re-honing your message as fears about the current economy's impact are revealed in your prospects' objections. Jeb's also a firm believer in selling alongside his sales team and listening to his reps' calls to provide just-in-time coaching. Get ready to take notes as this master of selling practices lets you in on what works and what doesn't in today's Market Dominance Guys' episode, "How to Dominate Your Market in a Crisis."
About Our Guest
Jeb Blount is CEO at Sales Gravy, Inc., which is a global leader in sales acceleration and customer experience enablement solutions. He is the author of 15 sales-related books, including his most recent release, Selling in a Crisis: 55 Ways to Stay Motivated and Increase Sales in Volatile Times. Jeb is also the host of the Sales Gravy Podcast, the world's most downloaded sales podcast.
Full episode transcript below:
Corey Frank (01:38):
Great. Good afternoon, good morning, good evening everybody. This is Corey Frank on behalf of Chris Beall and the Market Dominance Guys. We are once again with you for another exciting episode of what it takes to succeed in your market. And not just succeed, but to dominate your market.
(01:55):
And as always with me in the virtual studio is the sage of sales, the prophet of profit, the Stephen Hawking of hawking, Chris Beall. So Chris, good to see you once again. So I don't know if he owed you money in a poker game or what, but we were able to wrangle Jeb Blount, CEO of Sales Gravy, founder, author of 72 sales books... No, 13 sales books. Best selling-
Jeb Blount (02:22):
13? 15. 15.
Corey Frank (02:22):
15.
Jeb Blount (02:24):
I worked hard to get that number.
Corey Frank (02:26):
I'm misinformed.
Chris Beall (02:26):
[inaudible 00:02:29]
Corey Frank (02:28):
I'm misinformed. Yes, I will tell our producer that the data that I have is old, including the new one. So welcome, Jeb. Chris, how did we were able to lasso the esteemed Jeb Blount and his Sales Gravy team to our little podcast?
Chris Beall (02:45):
Well, so Jeb, it's so exciting to have you here. I haven't seen you for a couple of weeks. And it's like, I miss you, man.
(02:56):
So I was sitting down by the fire with Helen over here, we're down here in the desert, and I had been fortunate enough to go online at Amazon and buy a copy... Oops, a copy of Selling in a Crisis. And I love the title.
(03:09):
I was reading it, and it's a very easy read. It's 55 chunks that you can do something with each individual one, which I really like. My only complaint about it is, I prefer the number 108, as you know Corey. But Jeb got a little tired after 55, and figured that's enough and cut it off.
(03:27):
So I went out to review Selling in a Crisis, and just say how fabulous I thought it was, and Amazon wouldn't let me review it. So I sent Jeb a text. And it was fairly late at night, Jeb, right? It was like, I don't know, 11:00 something your time or whatever.
Jeb Blount (03:42):
Yeah, I was in bed.
Chris Beall (03:43):
You were in bed. [inaudible 00:03:45]
Corey Frank (03:44):
He's working on the 16th book, that's what he's doing. Number 16.
Chris Beall (03:48):
And he gives me this answer immediately, and basically says, "Well, there's kind of an issue with Amazon." And he explained it, and I didn't understand it. But I realized I just have to settle down and try again every day until I can finally review it.
(04:00):
But he said something interesting to me too, which is that, "I'm glad you liked the book. I wasn't 100% sure if people were going to like it." I think that's what you said, Jeb. Something like that, right?
Jeb Blount (04:09):
Yeah. Yes.
Corey Frank (04:12):
Well, I know it's tough enough, Jeb, and we can probably start with this as we turn the attention over to you, and as we have pen in hand as you spew all this wonderful wisdom for these 15 books, and all the wonderful seminars. Including the number one sales podcast in the world, I believe right now, right?
Jeb Blount (04:28):
Yeah.
Corey Frank (04:28):
With the Sales Gravy? But selling is tough enough. Now you're going to tell us, I got to learn a whole bunch of new things to sell in a crisis? So maybe we can talk about what was kind of the impetus and the rationale.
(04:40):
Because you have the pulse, you and your team have a pulse on what's happening in the sales world, the outreach world, et cetera. What were some of the little reverberation, seismic things that are happening beneath the surface saying, "Okay, we've got to gird our loins, and we've got to adjust for this Winter is Coming type of moment."
Jeb Blount (05:01):
Well, all you got to do is be a good observer of the world. I read the Wall Street Journal every single day, and you start seeing patterns. So if you read every day, and you look at legitimate business news sources every day, you begin to see the patterns stack up.
(05:14):
It's no different than when, it was right before Christmas, and I was seeing all of these clients coming in asking us to teach them how to go out and get price increases, that I was like, "This is tipping. We know that the inflation is there, but to get this many people coming in..." And I wrote Selling the Price Increase.
(05:32):
And then, as soon as that book was coming out, you began to see that you've got some recessionary issues that are coming into play. Maybe not in every single economy. And by the way, not even in every single state in the United States. It's just a pattern that you see emerging.
(05:46):
And when you start seeing a pattern emerging, the question is, are you going to be behind the curve or ahead of the curve? So by paying attention to what's happening, you start thinking, "Well, there's something there."
(05:57):
This wasn't a aha moment, I need to do this book. It was much more of a, I'm seeing things happening. I had just finished Selling the Price Increase, which was an intense book. It's a detailed textbook on how to go get price increases. Really, really, really detailed. Probably one of the most detailed, wonky books I've ever written.
(06:20):
I'm not thinking I want to write another book. I'm thinking I want to go sleep for about a year. Because I pulled that book off in about 60 days, and it's the longest book I've written in terms of pages.
(06:31):
So I'm sitting down, this third week in June in New York City. I was up there doing a gig, and met with my publisher, Wiley. And we're just having a conversation batting around ideas, and they're like, "What have you been thinking about?"
(06:43):
I said, "Well, I've got this content I've been working on for a while, and I don't know if this is the right time, but it's called Selling in a Crisis. And as soon as I said it, the antennas went up, and they're like, "Oh, that. How soon?"
(07:00):
I had the summer blocked to write the follow-up to Fanatical Prospecting, called the Fanatical Prospecting Playbook, which is out on Amazon, but there isn't a book yet. And they said, "Send me this stuff." So I left there, send them my ideas, and had a contract the next day, and said, "This is what we're going to do."
(07:18):
So that was really the impetus. And I had the time set aside, so I was able to get the book done. The way the book turned out though was kind of weird. I didn't start at this point with the book being the way it is. I'm really happy the way it is, but it wasn't my point.
(07:33):
But that's how it came about. But Corey, I think that the way that I've written books over the last few years, when you look at Virtual Selling, Virtual Training, Selling the Price Increase, and now Selling in a Crisis. It's really the way that good sales professionals should be looking at their marketplace and looking at their world, is you got to be paying attention to patterns.
(07:54):
Because if you can get ahead of the curve on the activity, on the messaging, on how you're changing. Even changing markets. Part of this book is, you've got to go where the money is. So if you're shifting into a different market because you know that that market's going to go there, there's Chris with the book.
(08:10):
So most people in the world are reacting. You don't have to be. You can be proactive. You have to pay attention to what's happening around you.
Corey Frank (08:18):
So with that, Chris and I talk in our Market Dominance podcast certainly, a lot about the signals we get from prospects. The pauses, the not-pauses. The signals they give you by not responding to emails, ghosting, et cetera.
(08:33):
When you look at particularly selling in a crisis, what are some of these... We talk about 55 ways, but what are some of these ways? You said to pay attention to the patterns. What are some of those patterns that you're talking about?
Jeb Blount (08:45):
Well, when you think about prospects teaching you. That's the way I look at it. A prospect teaches you what's happening in their world. Those lessons come in a couple of ways.
(08:53):
If you're brand new... So for example, if you're running ConnectAndSell, and you're having lots of conversations, probably the easiest way to learn how to have a conversation with a prospect is to have lots of conversations with prospects. Pretty soon you kind of figure out, this is the things they're interested in. These are the things they're not interested in. Especially if you're going down a market vertical.
(09:11):
That's everyday work. If you're in a crisis, or in a disruptive period, economic downturn. It could be energy crisis. It could be any of the things that are impacting companies today. You've got to pay attention to what questions your prospects are asking you. You've got to pay attention to how slow they're moving, or how fast they're moving.
(09:32):
So for example, in selling in a crisis, one of the things that we know to be true is that, when you're in a situation where people feel stressed or overwhelmed, or they feel like making a decision to do business with you is super risky, time is not on your side. You don't have six months to work a deal. You've got to advance that deal micro-step by micro-step by micro-step.
(09:56):
And if they're not willing to match your effort and move along with you, it's a pretty clear signal that you may not have a deal there. The most expensive thing that you can do during a crisis period, during a recession, is to invest a lot of time in the wrong prospect.
(10:11):
So the signals that you get from prospects along the way are, "Hey, am I really in this with you? Am I really interested in working with you?" Along the way, you've got to pay attention to the people that you are dealing with. Because, as we start moving into an economic downturn, as winter starts coming on, decision-making authority begins to shift and move inside organizations.
(10:33):
Right now, it's typically at a middle level to a low level. As the crisis heats up, as the recession comes on, it'll begin moving up higher in the organization, and you're not going to know when that's going to happen. So you have to start paying attention to when you ask those prospects to do something, what do they do? How do they do it? How do they respond to you?
(10:55):
You have to pay attention to cognitive dissonance. You have to pay attention to their body language. All of those things matter. And a good salesperson, a good sales professional, lives in the land of awareness. Because they understand that you cannot be delusional and successful at the same time. And if we ignore those patterns, we begin to live inside of delusion.
Corey Frank (11:16):
So Chris, you, as the CEO of ConnectAndSell, you see several million phone calls a year. If you look at, we're talking about flight school, IFR and VFR type of ratings, right?You not only have the visual flight, by being on the ground with your clients, Chris, and seeing kind of the residue and the body language over the last few months. But you have the IFR, the instrument ratings as well, to see what's that residue that shows up in all the ConnectAndSell reports from the data. So with what Jeb is talking about, are you seeing many of the same things?
Chris Beall (11:51):
Well, one of the ones we have seen... Yeah, we do see some things. One of the ones we've seen is, we get a signal back that says people have left their job, and it's called person left remove in our world. And that signal has gone from a 2018 level of about 3.3% per month, and it went up during this whole great reshuffle, et cetera, et cetera, up to about 5.2% per month.
(12:15):
And we can look at it by how senior the people are. As Jeb said, the decision-making authority is likely to move up in organizations, and it moves up very, very fast. The reason it moves up is somebody has a meeting and says, "Okay, CFO's got a lot of power."
(12:31):
During a crisis, CFOs have a huge amount of power in organizations. In fact, you can generally say that the power shifts from the CEO to the CFO in a crisis. That's what really happens. And the CEO's left trying to figure out what to do with the resources they're allowed to have.
(12:47):
I know a lot of people think CEOs are like big powerful beasts that do everything. Actually, kind of they're both reporting to the board, the CFO and the CEO effectively. Unless the organization's put together kind of funny. And you get these power shifts that are going on.
(13:02):
And they tend to be represented in reality by, suddenly somebody who could spend $50,000 has got to go get approval for $10,000. Or for anything. That's a fairly common one.
(13:15):
What we don't normally see in sales, and we have to learn to adapt to in a crisis, is not just continuous change and staying on top of stuff, it's discontinuous change. So there's continuous change going on like, "Hey, now if my deal takes three months, I have a 15% chance the person I'm working with is gone before the end of the deal."
(13:36):
Think about that. So you're better off doing a deal that can be done earlier, and then cementing it as best you can to somebody who's likely to still be there and start delivering value, than to see if you can do a better deal in three months, which you might have been [inaudible 00:13:51]
Corey Frank (13:52):
So are you saying [inaudible 00:13:53] take a smaller price deal? Is that what I hear you saying? Potentially [inaudible 00:13:56]
Chris Beall (13:56):
I always make the distinction between price and chunk size. So price is price. Your unit price is your unit price. Whatever it is, you're probably not going to move off of that. Chunk size has a lot to do with what you can get done in a amount of time you have with the people that you're working with.
(14:12):
And chunk size, in a crisis, it's often wise... It feels funny, but it's often wise to actually come down in chunk size, spread your portfolio, and take market share. The best thing you can do in a crisis is while everybody else is trying to keep the lights on, you take the market.
(14:29):
And they wake up when it's all [inaudible 00:14:33] "What happened?" And it's like, "Well, I took the market." Then that's what our show's all about, is market dominance. "I took the market while you were worried about the deal."
Jeb Blount (15:33):
Yup. By the way, that's exactly what we did at Sales Gravy during the last downturn. It wasn't a very long downturn, but we put pedal to the metal, and we sucked up market share and quadrupled the size of our company by not being afraid to lean into it.
(15:48):
And a lot of it was exactly what Chris is saying. Really wise words. We just broke the chunks up into smaller pieces. And it turned out that when we were delivering value, they said we want more of those chunks.
(15:59):
So one way of looking at this, and Chris, I don't want to put words in your mouth, is, when things start hitting the fan, you've got to make it really easy for people to do business with you with a lower risk to them, so that they don't feel like they need to hold off on something. Because time is not on your side.
(16:19):
If you think time's on your side, you are dead wrong. It is not. It will slay you. I love the stat, 15% of the people are leaving within three months. And that's real.
Chris Beall (16:30):
Yeah, and a buying committee, it's even worse. Because say you've got a buying committee of four folks, right? You're almost at a 100% chance that one of the four will leave. And as soon as they leave, that committee goes into paralysis.
(16:42):
It's instantaneous paralysis, because their buying mechanism was the vote among those people. And there is power games being played inside of there. You can never see them perfectly. You're an outsider, they're insiders. All that power is flowing around inside. But something broke down power-wise, because that person left.
(17:00):
And it's not always that they're fired. Sometimes they're the smart ones. The powerful person who says, "I'm getting out of here, I'm going to where the grass is going to be greener, or at least the sprinklers are still going to be turned on tomorrow."
(17:11):
So I think speed becomes a huge, huge issue. Getting cycle times down, and friction out. Those are hard things to do, because we cling to the big deals, the one that's going to make everything happen. And we cling to our friction elements, because we think they provide us with proof of progress. And yet, we have to let go of that stuff if we really want to dominate in a crisis
Corey Frank (17:34):
Yeah, for sure. You know, one of the things, Jeb, you talk about certainly in a lot of your books, is activity is everything. Especially in a crisis, Chris, certainly you have a powerful weapon like ConnectAndSell that helps you amplify, and certainly modulate, upscale your activities is everything.
(17:52):
But Jeb, with that in mind, in these 55 ways, is there such a thing as, do I have to prospect smarter? Or is it, do I have to prospect more? Or do I have to prospect differently? When you talk about, again that broad axiom of activity is everything, how can we frame that in towards the crisis mentality here?
Jeb Blount (18:13):
All of the above. You have to get more prospecting done, in less time, with greater outcomes. And so you have to prospect faster, and you have to get more done. Which is why ConnectAndSell's such a great product.
(18:27):
You have to have more conversations with people. And you have to do it, and you have to compress the time. Because you've got to get much more prospecting done during a crisis period, because there are going to be fewer buyers. It's just necessary to sift through all of the soil to find the gold.
(18:46):
But you also have to do some things different. I mean, you have to maybe change your message a little bit. That's going to be important. You're going to face a little bit different prospecting objections. Most of it's going to be deferment objections. "We're not buying right now, we're not doing anything right now."
(19:02):
You're going to have to get through those. And you're going to have to pay attention to Willie Sutton. Willie Sutton is the namesake of Sutton's Law. Sutton's Law simply describes, you have to go where the money is.
(19:13):
So you're going to have to begin shifting what you consider your ideal qualified prospect as we move into a down market. And that just simply means the money's going to be moving someplace. It may not be moving in the market you've been calling in, so go find another market.
(19:28):
And then you've got to be prepared multiple times to shift. Because sometimes that money will move into one segment, and then move to another segment. It might move into a certain size company, away from other size companies.
(19:40):
This goes back to knowing your market, knowing your business, knowing your customer base. Knowing what's happening at the macro level and at the micro level. It means studying, being an expert.
(19:52):
But you have to do all of those things. You have to prospect more, you have to be more efficient. And sometimes you have to be different. Different messaging, different ways of dealing with objections, and into different markets.
Corey Frank (20:06):
And Chris, in your world, when you look at, again, the weapon of ConnectAndSell. Dial-to-connect rates, conversation / conversion rates. Dial-to-meeting rates. What kind of residue and signals are you seeing?
(20:19):
Much like what you talked about earlier with the folks who are no longer employed. You saw a little bit of blip a few months ago, that was a leading indicator. What are you seeing from dial-to-connect, dial-to-meeting rates that kind of buttresses what Jeb's talking about?
Chris Beall (20:34):
Well, I always look at the most calibrated reps, right? So you look at, over time, who produces certain number of meetings per prospecting hour. Because that's really what the number is. Time is not your friend. Time goes tick, tick, tick. You've got a prospecting hour, what do you produce?
(20:48):
A fabulous number is, well, we know some folks who can go two and a half, three meetings per hour that they can produce like clockwork. Most really good, top-of-funnel folks who other people would say are good, they're going to be at about 0.6.
(21:05):
But if you take that top person, and you see that meetings per rep hour go down, all things being equal, you have got to move. And if you don't have a calibrated person, you're kind of screwed. Because now the question is, "Well what's really going on?" And what's probably going on is actually what Jeb talks about in chapter 44.
(21:23):
Chapter 44 is Control Your Emotions. "Selling in a crisis can push you to the edges of emotional extremes. These emotional extremes become your Achilles heel. Unmanaged, they betray you, make you weak, cause you to lose self-control, and make it impossible for you to effectively influence buyers who are likely being impacted by similar emotions."
(21:44):
The death spiral in sales is when your emotions start to be affected by their responses. When they're affected negatively, you become less effective. And the place you become less effective is at the opener of your cold call.
(21:59):
That's where you go to crap. That's where you go to hell in a hand basket. Your voice tightens up, you're a little bit off, and everybody wants to hang up on you. So that's what I always look for, is that first hint.
(22:12):
It's a very athletic business. Think of how you do it with athletes, right? If it's a wide receiver, you're looking for the guy who's breaking a little bit late and gets hit in the side of the helmet by the ball. It's like, "Why weren't you looking back for that?" Because he's tight. That's why. Because he's tight. And as soon as you're tight you can't execute.
(22:33):
So I look for that tightness in that number. Which is a discontinuous, or rather quick change in meetings per rep hour from a highly calibrated top performer. And then you kind of go, "That's the market." Go down in the organization, you're going to see it from their own emotions. Now you've got a coaching thing that you've got to work on.
Corey Frank (22:54):
You bring up a great point. We have to do a plug to our friend Brad Ferguson and then Dave Kurlan from OMG. Because the OMG sales assessment tool, they have a metric in there, a measurable aspect, that says your ability to stay in the moment. And can you take a punch or not, right, Jeb?
(23:12):
I'm sure that you see this in... It's tough enough in cold calling, when you're doing prospecting. You talk a lot about it, I know, in the discovery, which we're going to talk about a little bit later here. But how do you coach that, from your perspective?
(23:26):
From your team at Sales Gravy, they go out, and I'm somebody that, I'm going to get turned off my focus here. Because the prospect is maybe a little bit more antsy, a little bit more animated, a little bit more agitated. How can you coach me to stay in the moment, om, Spock-like, keep the game going?
Jeb Blount (23:45):
It's more of a pattern of things. It's not going to be one call. So it's going to be multiple calls that are going to start pushing salespeople to change their pattern, and the way that they approach prospects on a cold call, because they become emotional.
(23:59):
In other words, they begin anticipating that they're going to get hit in the head, essentially is what happens. They get tight. They're like, "I'm going to get punched in the face." So they come off more insecure, they lose their confidence.
(24:10):
And in a cold-call situation, because you're moving so fast. I mean, essentially it's verbal judo at 100 miles an hour. If you're tight, you're going to get nailed. So the downward spiral becomes, they get hit in the head, it hurts, then they flinch again, and then they get hit in the head again. Then it hurts. And then it just gets worse and worse and worse in the way that they're approaching them.
(24:31):
So if you're a sales leader, first of all, what Chris said is exactly right. Go watch your salespeople. Calibrate. Look at your top salespeople, look at the people in the middle. Pay attention to what's happening to them. Listen to their calls. Be present. Pay attention to them.
(24:46):
You can't lead this from sitting behind a desk looking at your email. You need to be there and listen to calls. In my case, I'll go get on calls with them. So I'll go make calls with the salesperson, have the same conversations, see what they're experiencing, and then sit back and say, "Okay, we're getting this objection from a customer or from our prospects. How are we going to handle that?"
(25:10):
And then we're going to coach the messaging, build the messaging, replay the messaging, role-play the messaging, and then we're going to go get back on the telephones again. Because all they really need is just to know how they're going to handle that moment. And how are they going to handle their emotions when they get punched in the face.
(25:26):
But sometimes you forget. If you get hit enough times, you just forget. A really good way of looking at this. And Chris, this is kind of a connection to what you're saying.
(25:36):
Most people know I'm just big into horses. It's my thing. And I had a horse last spring that refused a jump on me really dirty, real bad, and it broke my foot. Then I get on another horse, and I get on another horse, and suddenly I feel fear because I think those horses are going to do the same thing.
(25:57):
Now this is all happening at the subconscious level, and I'm tight. Well, if I'm tight, what I do is I change the horse's behavior because of my behavior.
(26:07):
What my coach did for me was say, "Hey Jeb, guess what? Let me show you a picture of what's happening. Here's a video. This is you on that horse going over the jump. See how far forward you are? See what you're doing?"
(26:20):
So if you're a coach, you have to sit with your salespeople, and then you have to help them become aware of the way they've changed their behavior. Because usually when they start changing those behaviors, they don't know it. It's just one little thing at a time.
(26:33):
And then you have to sometimes get on the calls with them and show them it's going to be okay. But more than anything, you want to help them with their messaging. You want to listen to what they're doing, and you want to get them back in track.
(26:45):
It's no different than the coach with the wide receiver that's cutting just a little bit early. You're going to show them some game film. You're going to say, "Here's what you're doing, now let's go out and practice it."And that's how you get them better. It's not like the person's talent took a hit, it's their emotions that took a hit. As the coach, that's what your job is, is to fill and close that gap.
Corey Frank (27:03):
I think an example that you talked about, I believe it was on your blog recently or one of your podcasts, you talked about your son conducting one of the seminars. And a gentleman in the audience raised his hand and says, "Hey, this whole fanatical prospecting thing, is it even relevant today? Does that stuff even work?"
(27:21):
Now talk about getting a signal that there's some fear there, right Chris? And I'll let you tell the rest of the story if you recall. How did your speaker, how did your son, handle that particular question?
Jeb Blount (27:30):
He just pulls out his list and picks up the phone. He just rips off 20 outbound prospecting calls, he sets a few appointments. And he just looks at him and says, "Is it relevant?" That was it. That's the truth.
(27:43):
So he covered that gap by showing them that what they were fearing was all the wrong thing. I mean, all they really wanted him to do was to let them off the hook. And Chris, you'll love this, that the phone didn't work anymore.
(27:56):
I mean, it wasn't about whether fanatical prospecting was good or not. It was whether or not they should be talking with people in real time, in synchronous conversations, on the telephone. Or should they just sit around in their sales enablement platform and spam people with a bunch of crappy emails. And he just shut the whole thing down, just in that moment.
(28:16):
And my kid, by the way, looking at patterns. When he was in high school, I used to make him come in, and I would give him a list of people to call and we would practice messaging. I'd have it on speaker phone and all I wanted him to do was get objections.
(28:31):
So I wanted to hear all the objections that he got. Then we would change the messaging, and he would come in and we would do it again the next day. And we would change the messaging until we would hone it, and we would start getting fewer objections than we were getting conversations.
(28:47):
You're always going to get objections. But if I can improve the probability that I get a conversation and reduce the probability I get an objection, I'm going to get more meetings. If I get more meetings, I'm going to sell more.
(28:55):
So it's the same thing that Chris was talking about. As a leader, you've got to listen. Pay attention to what's happening around you, what your patterns are. You cannot hide in the sand.
(29:05):
And Chris, I'd love to get your opinion on this, but I've got to tell you, I think a lot of leaders are frightened to death of coaching prospecting activity. I think it scares them. I don't think that they like it. I think that they will do anything to stay away from it. I think it makes them feel uncomfortable.
(29:22):
And I can tell you that, if you're a leader and you will go sit down next to your rep, and you'll make dials with them, you'll be the greatest hero in the world. They'll tell everybody what you did. Because most leaders are afraid to do that, because they're afraid that they'll get rejected. They're afraid that they'll fail. They're afraid that their reps will see them fail.
(29:41):
I do it all the time, Corey. I make egregious mistakes. Every once in a while I'll sell something. I mean crazy as it sounds, I'll get a deal. I'll get somebody on the hook. But usually I'm crashing and burning right next to it.
(29:52):
They don't even notice. I'm the guy that wrote Fanatical Prospecting, and I'm messing everything up. All they see is that I'm sitting there on the phone on a list.
Corey Frank (30:01):
Yup, yup.
Chris Beall (30:02):
Yeah, I've got an example of this that's quite illuminating. So Scott Webb over at HUB International, chief sales officer of the Central Region there. He's figured out two things I think that everybody should think about a little bit when it comes to this question of the emotions and prospecting.
(30:18):
One is, he doesn't let anybody prospect using our weapon unless it's in a group setting. And the group setting is all Zoom, but it's a group setting. And it's like, you come to this, you come, we start on the second. It's at 9:00:00 it starts. And it ends at 9:59:59, and whatever's left, and it's over.
(30:44):
And you've got to earn your way in. You've got to earn your way in by converting it greater than 10% conversation to meetings. And you have four sessions in which to do it, after which, "Sorry, you're out."
(30:55):
But he does another thing, which is he leads from the front. And he leads from the front, he's on every one of those. He's calling with them. He has somebody else who's paying attention and coaching. We provide that person.
(31:06):
And as a result, it's sort of like a no excuses world. You really don't expect the head coach to go out there and run that pattern better than the wide receiver, better than that first round draft pick. But he does it.
(31:18):
He converts, by the way, at 100%. And he does it using techniques I've never seen before [inaudible 00:31:24]
Corey Frank (31:24):
100%. Come on.
Chris Beall (31:27):
It's what Cherryl Turner has adopted called the insistence close. It's quite fascinating, and it takes care of a lot of emotions. But the big emotional thing is, look, we don't like to talk about it, but we're kind of herd animals.
(31:40):
A lot of salespeople think they're not. They think, "Oh, I'm [inaudible 00:31:44] I'm this independent, I'm lone wolf, blah, blah blah." Fact of matter is, people are braver in groups than they are individually. And once you get that sort of herd thing going, now you can coach to first failure very easily.
(31:57):
And we're big advocates of coach to first failure. Never coach the second thing, because it's the first thing that screwed up the second thing. Just coach the first thing. Push the damn button, have another conversation. See how you do.
(32:09):
But I mean, I've coached a lot of stuff. You know, Corey, I used to teach people rock climbing. The second failure tends to be really bad when you're climbing. It's the one that starts with the word falling ends with the fall. It's the failure before that, that causes the fall. It's not the one on the move, it's the one that was going to set up the move.
(32:28):
And that's true in sales too. It's the previous thing that you didn't quite get that left you in an awkward position, left you out of balance, left you too far forward on the horse. Whatever it happens to be. It's that first failure you've got to coach to. But you've got to do it under pressure. Because when they're not under pressure, they all perform.
Corey Frank (32:46):
Mm-hmm.